Want to win every match of arm wrestling? or Do you exercise a lot in the gym still can't win in arm wrestling?
Don't worry, here I will provide you with the best solution.
Here we will discuss the best equipment that will help you win every arm-wrestling match.
These instruments are designed so well that they provide immense strength to those muscles that are greatly used in arm-wrestling.
You just need to exercise with them regularly.
As a fitness consultant, I get many queries on whether strength is important in arm-wrestling or techniques.
I want to tell them that arm-wrestling doesn't only demand strength but also demands techniques to win the match.
But imagine that your opponent is so strong that he doesn't even give you time to apply those techniques.
What will you do?
Of course, the techniques are also important but your first objective to win arm-wrestling is to build immense strength.
1. How to Build Immense Strength to Win Arm-wrestling Match?
Well, if you ask anyone about building strength for arm-wrestling, he will suggest you several biceps and triceps exercises.
But believe me, this is not going to work.
Of course, these exercises will improve your strength but not up to the level that you need to win every arm-wrestling match.
I want to explain this to you by giving an example of my college friend who had never lost an arm-wrestling match.
I went to another city to complete my post-graduation there I found him. We had been roommates for 2 years.
Since I was a gym buddy, I challenged him for an arm-wrestling match. In that match, I couldn't even move his hand.
You won't believe that he had neither gone to the gym ever nor practiced more than 5 push-ups in his life. He didn't even have a bulkier body.
I was very shocked and asked him about his immense strength.
He said that he used to work in his farms and those works had made his upper arms very powerful.
He also advised me to work on my upper arms and as a fitness seeker, I started working on my upper arms and I also got the best results.
Here, I would like to advise you to start working on your upper arms (i.e, forearms, wrist, etc) to win every arm-wrestling match.
Now, let's discuss why you need particular equipment to train your upper arms.
2. Why do You Need Particular Equipment?
Now, you may ask that we can train our forearms with barbells and dumbbells then why do we need to buy particular equipment to train forearms.
The answer is similar to why you need particular protein supplements when you can consume protein from natural foods.
You need protein supplements because you get the exact amount of protein that your body needs with a very low effort.
Similarly, this equipment helps you strengthen the exact muscles, that you use the most during the arm-wrestling match.
I hope you can understand.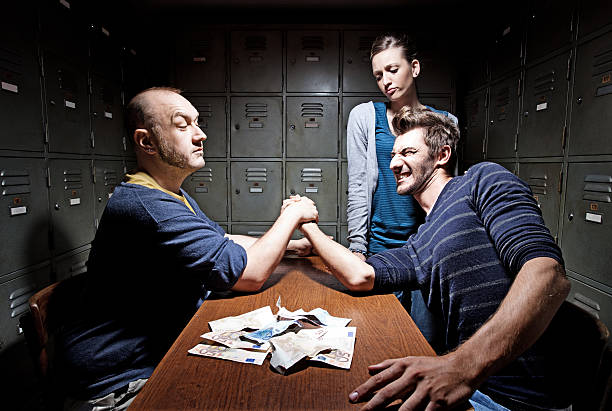 3. What to Check in Arm-Wrestling Training Equipment?
Here are a few things to check before buying any equipment for arm-wrestling training.
It should also focus on strengthening your wrist, grip, and forearms and not just focus on biceps and triceps.
It should provide a good amount of resistance so that you can increase your strength.
You should also check the product quality such as material, durability, spring flexibility, ergonomics, grip comfort, etc.
Equipment should be easy to use. Even better if it is easy to move so that you can practice wherever you want.
Now, let's discuss the best equipment to win every arm-wrestling match.
4. Best Equipment to Win Every Arm Wrestling Match
1)
Arm Wrestling Resistance Spring Bar Exerciser
The best way to win every arm wrestling match is to practice more and for that, you will require a permanent partner with whom you can practice more.
But where to find a permanent practice partner?
The solution is here.
This equipment can surely become your practice partner.
With this equipment, you can copy the same move that you perform in arm wrestling.
This highly reputed product is best when you don't have anyone to practice with or when you want to practice alone. (or secretly)
=> How It Can Help You?
1) You can train all the muscles that get involved in arm wrestling such as forearms, wrist, biceps, triceps, shoulder, etc.
2) You can tone all these muscles with more than 50 pounds of resistance.
3) You can train your arm for the same movement that you perform in arm wrestling for the high difficulty of resistance.
=> Pros & Cons of This Equipment
Pros
The spring is made up of high-grade carbon steel which is extremely durable for long-term use.
It contains 4 heavy-duty suction cups which help it to stick to the ground properly.
You can bring it everywhere with you and use it almost on every smooth and flat surface.
Spring is very flexible so you can practice the 90-degree movement.
Pocket-friendly price.
A high resistance spring is given so you can train hard.
Cons
You can't increase or decrease the resistance.
Customers sometimes complain about suction but the company suggests wetting the suction cups before using them for better stickiness.
2) Tannion 6 Piece Hand Strengthening Training Set
As I told you above, if you want to beat your opponent in arm-wrestling, your forearms should be super strong.
So, you have to train them properly, and to do so this forearm hand strengthening set can help you a lot.
Of course, you can do various exercises to develop your forearm strength but these kinds of equipment will help you tone your forearms in a perfect way.
This forearm strengthening set will help you make your forearm as strong as an iron rod.
=> How It Can Help You?
Here, you can see that it includes 6 different types of equipment that can help you increase your forearm strength.
Let's understand their benefits one by one.
1) Hand Gripper
It strengthens your grip and forearm. When you have a strong and firm grip, you can shock your opponent with your strength.
You can also change the resistance levels from 11- 132 lbs, making your grip super firm.
2) Wrist Strengthener
A wrist strengthener will help you keep your wrist firm while arm-wrestling.
It often happens that your opponent bends your wrist and you lose the arm-wrestling battle.
To prevent this, you have to work on your wrist strength, and believe me, the wrist strengthener included in this set is master in it.
(You also can change the resistance level by sliding the pad)
3) Finger Stretcher
This equipment is best at strengthening the side muscles of your forearms (you can experience it by performing the same move even without using it)
4) Finger Exerciser
If you regularly exercise with it, it will provide immense strength to your fingers as well as forearms.
5) Hand Strengthener Grip Ring
It is made up of 100% quality silicone and has a resistance level of 50 lbs. It will also improve your hand grip strength.
6) Stress Relief Grip Egg
Though it won't be much useful to increase forearm strength, practicing it will provide comfort to your hands.
=> Pros and Cons of This Product
Pros
High-quality and long durability
Spring used in any equipment is highly flexible.
6 types of equipment at a very affordable price.
Extremely easy to use and can be brought everywhere.
A grip strengthener and wrist strengthener allow you to increase resistance levels.
Cons
You can't increase resistance levels after a certain level
=>Is there an alternative to this set?
Well, if you don't want all the equipment for this set, then here is an alternative to this set.
Even these two pieces of equipment are also good for you to perform better in arm-wrestling.
Let's discuss the third equipment to win every arm-wrestling match.
3) Wrist Roller
You very well know the importance of wrist strength in arm wrestling.
Of course, the wrist strengthener that we discussed above will make your wrist strong but if you want more strength, you should go for a wrist roller.
If you will practice with a wrist roller regularly, I am sure that no one will be able to bend your wrist whether in arm wrestling or anything else.
Most people are not aware of it. I don't why…!!!
But believe me, it is one of the best equipment to win every arm-wrestling match.
You can train almost all the muscles of your upper arm with this.
=> How It Can Be Useful to You?
Well, there are many reasons. Here are some of them.
1) It is one of the best equipment to get invincible wrist strength.
2) It also helps you strengthen your forearm muscles. (Overall development of hand)
3) You can dramatically improve your grip strength with regular practice.
3) You can vary the resistance levels from 15-400 lbs. (That's really amazing)
=> Pros & Cons of Wrist Roller
Pros
The spring of the forearm exerciser is made of high-quality solid iron which means it is durable for a longer period.
It has non-slip grips made up of durable nylon. So you can even practice it with sweaty hands.
You can change the resistance levels from 15 lbs to 400 lbs which is truly amazing.
Cons
No direct cons are found for this product.
4) Pull Up Bar
Observing many participants in arm-wrestling, I have concluded that the participants who practice wide-grip pull-ups are better performers.
You also know that pull-up is the best exercise to fill your arms with invincible strength.
So, my fourth suggested equipment to win every arm wrestling match is a pull-up bar.
If you go to the gym and practice pull-ups then you don't need to buy it but if you don't go to the gym, I will emphasize that you buy it.
=> How Pull-Bar Can Help You in Arm Wrestling?
1) With this pull-up bar you can practice all types of grips such as narrow, shoulder-width, and wider grips (best to train for arm-wrestling).
2) It can help you strengthen your biceps, shoulder, forearms, grip, and wrist. That means you can tone every muscle that gets involved during arm wrestling.
3) You can also train your back muscles by practicing pull-ups.
That's why it is present in the list of the best equipment to win every arm-wrestling match.
=> Pros & Cons of This Pull-Up Bar
Pros
It is a doorway pull-up bar (no screws are used to install) which means it will not acquire much space in the home.
It is made up of heavy-duty steel which provides sturdiness and reliability to it.
The company has particularly worked on its ergonomics that's why the grips are very comfortable.
Suitable for almost every doorway.
It is finished with shiny platinum which exactly matches with house interior and gives it an exotic look.
You can practice all the grips i.e, narrow, neutral, and wide with it.
This equipment uses leverage to hold against the doorway so there are no screws used so its installation is very easy.
It also comes with safety brackets.
It can hold up to 300 pounds.
Cons
The padding on the bar where it meets the door frame is a little bit thinner.
May damage the doorway frame
=> Is There Any Alternative to This Equipment?
Of course, if you don't like a doorway pull-up bar you can also go for a wall-mounted pull-up bar.
It is also equally beneficial as the above one. The only problem with it is that it gets fixed on the wall and you can't move it as per your choice.
5) Dip Bars
The final equipment that I would like to suggest to win in the arm-wrestling match is dip bars.
In arm-wrestling, when you are about to bend your opponent's hand, you need a powerful force that is generally exerted by the triceps at that moment.
If your triceps are not powerful then your opponent will again move your hand to a neutral position and try to defeat you.
So, you have to make your triceps powerful.
And for that purpose, there is no better equipment than dip bars.
Here, you can tell me that we can do push-ups or any other exercises to build triceps then why should we go for dip bars?
Of course, you can make your triceps powerful with push-ups and other exercises.
But believe me, the amount of strength that parallel bar exercise can provide, no other exercise can do.
Because in this exercise you lift your entire weight just on your hands.
It is also a myth that dip bar exercise can only provide strength to the triceps and chest.
It can strengthen your wrist and shoulder too.
=> How This Equipment Can Help You in Arm-Wrestling?
1) It can increase your triceps strength immensely which will help you to bend down your opponent's hand during a match.
2) It also can improve your wrist strength which is a must to win every arm-wrestling match.
=> Pros & Cons of This Equipment
Pros
Can support 400 lbs weight
You can adjust the gap between bars
The base is coated with rubber that prevents it from slipping
You can also increase the bar height
The middle bar can be removed so it requires a very low space
Easy to move
Cons
Many people say that they don't get the same experience as a gym.
People with long height may find it difficult to use
=> Is There Any Better Option?
Instead of buying pull-up bars and dip bars separately, you can have a single piece of equipment that includes both of them.
These were the best kinds of equipment that you can use to train to win every arm-wrestling match.
Related:
Conclusion
People think that building muscles is enough to win in arm wrestling.
But it is not true.
Whether to win in a simple arm-wrestling competition between colleagues or in a tough professional competition, you must have to build strength.
And the above-mentioned tools can help you a lot in that purpose.
If you have any doubt related to this article on the best equipment to win every arm wrestling match, you can ask me in the comment box.
If you like this article, share it with your friends.
Thanks for reading…!!!