Do you want to get more muscular forearms?
For that, you will need to train your forearms with the right forearm workout equipment. Here, we will list down the best forearm exercise equipment.
The forearm exercise tools mentioned below are designed so well that you can target your forearm muscles precisely without engaging your other muscle groups.
On the e-commerce sites, you will find lots of forearm workout equipment that you can use to build muscular forearms, and such a broad list may confuse you.
So, for your convenience, we have gone through every forearm workout tool and listed the best ones.
Before we start listing down the best forearm training equipment, let's discuss why you should train your forearm and why to use such forearm exercise tools.
Let's start.
1. Why Forearm Strength Training is Important?
Well, there are 3 major reasons.
1) Dashing Look
No one can deny that a person having muscular forearms looks extremely good. It looks awkward when your all body parts are muscular except the forearms.
So, if you want to enhance your muscular look, you have to work on your forearms.
2) Less Fatigue During Intensive Grip Exercises
It is found in many gym goers that they have weak grip strength. It can result in forearm fatigue while practicing intensive grip exercises such as chin-ups, deadlifts, etc.
So to reduce this problem, you have to increase your forearm strength and the forearm equipment listed below can help you a lot in that purpose.
3) Immense strength
Most people who want great strength focus on all the other body parts except forearms but that's wrong. You have to understand that strength training for forearms is also necessary.
Have you ever seen a person getting bent when someone puts a hand on his shoulder? It is due to the heaviness of his forearm. If you want such immense strength, you have to build your forearm muscles.
After knowing the benefits of building forearms, let's understand why you should use particular equipment for forearm exercise.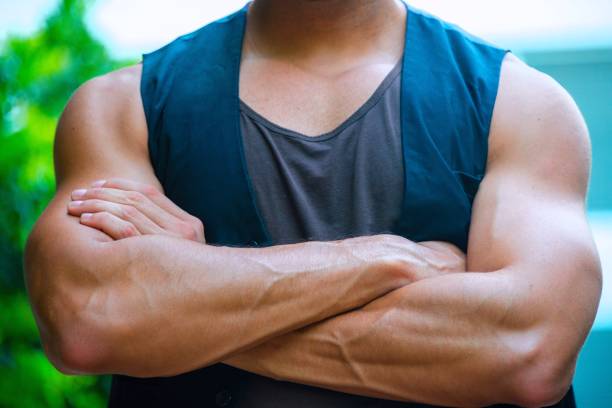 2. Why Should You Use Forearm Exercise Equipment?
Well, there are a few reasons for choosing forearm workout equipment over traditional forearm exercises in the gym.
Let's understand them one by one.
1) Exact Muscle Targeting
When you train your forearms with dumbbells and barbells, you also engage your biceps and shoulders. Now, you will say that it is good to target multiple muscles simultaneously then what is the problem?
The problem is that the load is also distributed among these muscles.
So your forearms don't get the required resistance but when you practice with a particular forearm exercise tool, you will not face such a problem. It is because they are designed to target your forearm muscles only.
2) You Can Practice Anywhere
Where the dumbbells or forearm exercise machine is fixed, you can bring these forearm exercise equipment everywhere even at home.
Because all these tools are lightweight and easy to carry. So if you are out of town and can't attend your gym session, you can still train your forearms.
3) They are Budget-friendly
Unlike dumbbells or a forearm training machine, the forearm equipment listed below are extremely low in cost. So you can buy them without facing any budget issues.
4) Easy to Practice
While using dumbbells or a barbell to train forearms, you have to struggle to find the perfect grip exercise comfortably and in a perfect way.
There is no such problem with the below-listed forearm exercise equipment. They all are easy to practice.
3. How to Choose The Right Forearm Exercise Equipment?
Whenever you buy something…it should be best…right? And to buy the best, we should know what features are making our products the best.
Hence I have listed below the features you should always check before any forearm exercise equipment.
1) High-Quality Spring
Many forearm exercise equipment use springs to provide resistance. You must check the quality of the spring used in the equipment.
The spring should be highly elastic, super flexible, and made up of high-quality material.
it should provide a high range of bending and should not get deformed or cracked even after long-term use.
2) Non-Slippery Grip
It happens many times that you train your forearms with sweaty hands.
At that time, if your equipment doesn't have non-slippery grips then you will not be able to perform exercise comfortably.
So always look for a non-slippery grip.
3) High-Quality Plastic
The major body of the forearm exercise equipment is made up of plastic. So the plastic used in any equipment must be of high quality.
It should be made up of high-quality material that is not fragile.
4) They Should Target All the Muscles of the Forearms
We want to train our forearms to make them stronger and more muscular.
So, we have to choose the equipment that can target all the muscle groups of the forearms such as front muscles, back muscles, side muscles, etc.
They should also increase our wrist strength, grip strength, finger strength, etc.
5) They Should Allow You to Change the Resistance Levels
You have to check carefully whether your chosen forearm exerciser provides the facility to increase resistance levels or not.
Otherwise, you will have to practice with the same resistance level only.
(Related: Best equipment to win every forearm strengthening match)
Now, we will discuss the best products that I have filtered out after thorough research. These products satisfy all the above-mentioned criteria.
Let's start.
4. List of The Best Forearm Exercise Equipment
Here is your list of the best forearm equipment to build strong and muscular forearms.
1) AJL Wrist and Forearm Strengthener Equipment
=> How It Can Help You?
1) This forearm instrument can help you train your front and back forearm muscle very effectively. Not only forearms, but it will also improve your wrist strength immensely.
2) It provides the facility to increase the resistance levels just by sliding the pad. So you can train your forearms for low as well as high resistance.
3) Since it is easy to use and compact in size, you can train your forearms at your home or workplace.
=> Pros & Cons of This Wrist Strengthener
Pros
The spring used in this equipment is super flexible and provides a high range of bending. It will not get deformed even after long-term use.
The holder which you will grab during the exercise is made up of ABS (Acrylonitrile Butadiene Styrene) which is considered one of the best plastic materials.
You can also find special marks on the holder so you can have a better grip while practicing it.
Sponge used in equipment is also durable and comfortable
You can adjust the resistance levels by sliding the pad.
Cons
You can't train the side forearm muscles (because there is no side verticle movement)
Screws that hold the holder with spring may get loose with time so you have to tighten them before using this equipment.
The sponge may get rough with time.
2) YOUGREAST Hand Gripper
Hand Grip strengthener is one of the best forearm exercise equipment. Here, you may think how can this grip strengthening equipment help me?
But believe me, it will 100% help you strengthen your overall forearms.
=> How This Hand Grip Strengthener Can Help You?
1) When you start practicing it, not only your grip but forearms also get strong.
2) Where a wrist strengthener can't properly target your side forearm muscles, a grip strengthener can do it precisely.
3) It also increases the firmness of your grip which means if you handshake anyone, they can feel your strength.
4) You can practice with resistance levels from 22-88 pounds (10-40 kg).
=> Pros & Cons of This Grip Strengthener
Pros
You can increase or decrease resistance levels as per your need.
You can precisely target side forearm muscle groups.
The handle is non-slippery.
Spring is made up of high-quality stainless steel which means you will have no tension of rusting.
Pocket size dimension.
It fits all hand sizes.
1 year of warranty
Cons
You can't target the front and back forearm muscles precisely.
3) Hand Finger Stretcher for Muscular Forearms
It is one of the best forearm workout equipment to train your forearms, especially fingers and front forearm muscles.
=> How Can Finger Stretcher Help You?
1) If you exercise using a finger stretcher regularly, it can increase the strength of your fingers as well as your side forearm muscles.
2) In this product, you will get 4 finger stretchers with different levels of resistance (8,13,18, and 21 lbs). As your fingers become more powerful, you can exercise with finger stretchers of higher levels.
3) If you want your hand to be as strong as an iron rod, I will highly recommend it.
=> Pros & Cons of This Finger Stretcher
Pros
Durable and washable
Made up of top-quality silicone
BPA (Bisphenol A) free
Bigger finger holes
More stretchable and hard to tear
It comes with four bands having a resistance of 8, 13, 18, and 21 lbs.
Cons
You can't set resistance manually.
4) Tannion 6 Piece Forearm & Hand Grip Strengthener Set 
If you don't want to buy these tools separately, you can also buy a complete set.
This includes,
Grip Strengthener
Wrist Strengthener
Finger Stretcher
Finger Exercises
Hand Strengthener Grip Ring
Stress Relief Grip Egg
All 6 pieces of equipment in a single set…!!!
5) DMoose Forearm Exerciser – Hand, Wrist, and Forearm Strengthener
It is ALL IN ONE and HIGHLY recommended for forearm workout equipment. It is one of the best forearm training equipment to train your forearms.
=> How It Can Help You?
1) You can train your entire upper arm (i.e forearm, wrist, etc) using this forearm exerciser.
2) When you practice with it, you can strengthen your front and back forearms muscles, side forearm muscles, and wrist.
=> Pros & Cons of This Forearm Exercises
Pros
Easy to carry and use
Build with high-quality material
Steel rod with well-balanced PVC handles (with anti-slip grip)
Can be used for the forearms and wrist (See the above image)
Provided with high-quality nylon rope and stainless steel lock
You can adjust the weight by increasing or decreasing the weight plates
Cons
Your shoulders also get engaged during this exercise
The company doesn't provide weighted plates
6) WINTECY Wrist Forearm Trainer
You have seen many people exercising their forearms using dumbbells. The main problem with the dumbbell is that we don't get a perfect grip especially when we try to train our side forearm muscles.
The company has come up with the best solution to this problem.
=> How It Can Help You?
1) I found this product best to train our side forearm muscles. Just grab this equipment in your wrist keeping your wrist verticle and then practice up-down movement.
2) You can also increase your wrist strength by rotating your wrist and holding this equipment.
=> Pros & Cons of This Equipment
Pros
Handle with a non-slip sponge
The company provides 4 weighted plates
More comfortable to practice than regular dumbbells
Cons
Not so easy to carry
Best for side forearm muscles but you can't train front and back forearm muscles precisely
7) Wrist Roller
This wrist and forearm strengthener can contribute a lot to your forearm development journey.
=> How Can Wrist Roller Help You Build Your Forearms?
1) It is one of the best pieces of equipment to get invincible wrist strength.
2) It also helps you strengthen your forearm muscles. (Overall development of upper arm)
3) You can dramatically improve your grip strength with regular practice.
4) You can vary the resistance levels from 15-400 lbs. (That's so amazing)
=> Pros & Cons of This Wrist Roller
Pros
The spring of the forearm exerciser is made of high-quality solid iron which means it is durable for a longer period
It has anti-slip grips made up of durable nylon. So you can even practice it with sweaty hands
You can vary the resistance levels from 15 lbs to 400 lbs
Easy to carry
Cons
No direct cons are found for this product
5. Our Recommended
If you don't want to buy all of the above products, we recommend two products that will be nearly enough to get strong forearms.
1) Forearm Exercises Set
2) Dmoose Forearm Exerciser
Conclusion
Here, we have discussed the best forearm exercise equipment that you need to have stronger and more muscular forearms.
These products have helped thousands of people to have their dream forearms. I am sure that you will be the next one.
If you have any questions related to the best forearm training equipment, you can ask me in the comment box. If you like this article on the best forearm exercise tools, share it with your friends.
Thanks for reading…!!!